Southwestern Ontario's longest running club for open-minded adults
Great for a girls' night out, a fun evening with your partner, or a place to meet those open to swinging
(in London, Ontario)
Register For Our Next Event | Event Dates | Club Updates | Rates & Rules
FAQs & Contact Us | Hotels | Comments | Single Males Click Here | Links
---
Are you tired of the typical bar scene full of college kids?
At Samantha's Place you can be comfortable dressing up, dancing, and flirting without unwanted attention.
A night out at Samantha's Place can be what you want it to be: a fun night out with your partner, a girls' night out for dancing, or a place to meet people who are open-minded. You don't need to be a swinger to enjoy our events, we attract a wide range of people and we have many new guests at every event.
Samantha's Place caters to those who are respectful, honest, and open-minded sexually. Our guests tend to be middle and upper class indivicuals who like to dress to impress.

===== Our Monthly 2016 Events =====
(We only have one event per month, we aren't open every weekend)





Saturday, November 12th, 2016
9:30pm-1am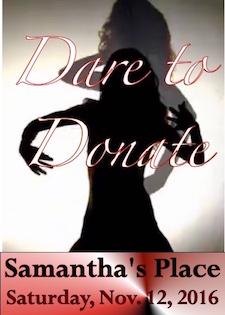 sponsored by the Love Shop
and
Spot of Delight
Early Bird special (9:30-9:45pm):
1/2 price for women and f-f couples
m-f couples save $10.
Regular rates after 9:45pm


We aren't planning a December 2016 party, as it's such a busy month.
Our January 2017 event is tentatively scheduled for Jan. 14th, 2017
and future 2017 events will be posted later this fall.


© 2000 - 2017 Samantha's Place, London, Ontario