Southwestern Ontario's Longest Running Swingers Club (in London, Ontario)

Register For Our Next Event | Club Event Dates | Club Updates | For New Guests
Hotels | Personal Ads | FAQs | Comments | Rates & Rules | Single Males Click Here | Swinger Links
---
======================== Our Monthly 2014 Events ==========================
Click on the event banners for more information about each event

New date: Saturday, November 15th, 2014

at our new east London venue
Little Black Dress

sponsored by the LOVE SHOP
We'll have sexy door prizes along with our special prize draw for those who help promote Samantha's Place on any adult websites or other venues:
write a review of Samantha's Place
or post a booty call stating that you'll be at the next event
or invite another member to come to the club
or contribute to a forum post about Samantha's Place
or simply add yourself to the event guest list on an applicable adult website

If you're bringing friends to the club for their first time please remind us at the door to be entered in our "Sexy Friends" draw
and you could win free admission to one of our next two events!

Ladies, did you know that women's accounts (including full use of the site) are free?!?

Saturday, December 13th, 2014
at our new east London venue
Sexy XXXmas


sponsored by the STAG SHOP

Saturday, January 17th, 2015
at our new east London venue
Charity Exxxtravaganza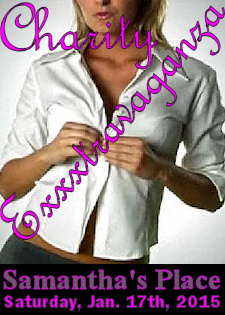 Saturday, February 14th, 2015

Saturday, March 14th, 2015

Saturday, April 18th, 2015

Saturday, May 9th, 2015

Saturday, June 6th, 2015

Saturday, July 18th, 2015

Saturday, August 15th, 2015

Saturday, September 19th, 2015

Saturday, October 24h, 2015

Saturday, November 14th, 2015

Saturday, December 12th, 2015

© 2000 - 2014 Samantha's Place Swing Club, London, Ontario | E-mail: samanthasplace69@hotmail.com